August 12th, 2013
Regardless of where a business is located, of utmost importance is how well it ranks in Google's "Who's Who" of online searches. When a business is competing on a limited geographic basis, that concern is even more critical. With a more defined market and competition all vying for the same business, how well a company appears in Google searches can greatly affect its success.
So what is the secret to achieving top organic ranking in a regional market? There's nothing secret about it. The same requirements needed to qualify for high ranking in global searches apply whether the pool is confined to a city, a state or a universe.
And what might those requirements be? While countless articles have been written on the subject, along with many bemoaning the latest shocking developments in algorithmic modifications which have dethroned some from the top spots, the answer can be quite simple. To appear as the best solution to someone's search, you need to fulfill their quest for the right information: exactly what they are looking for. Google makes this judgment based on the content, emphasis and organization of your website. Since you cannot be the perfect answer to everyone's specific search, your ranking will vary according to what kind of information is sought.
Simple? In theory. Yet, so complicated, when you consider how a minute variable can relegate you to a less-than-desirable ranking based on what terms a searcher may use, or how much more expertly (or luckily!) one of your competitors may have placed.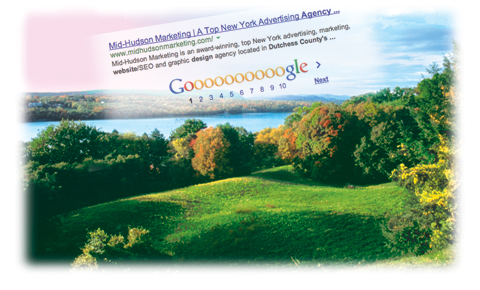 Add to this conundrum the fact that the market of our focus, New York's Hudson Valley, which has become the bedroom retreat of the Park Avenue set, boasts the upper echelon of website, graphic and artistic designers hoping to satisfy the needs of the rural community in which they find themselves. This is staunch competition for anyone just entering the fray or a business without the proper credentials and long-term accolades.
What may separate the men from the boys, though, in our present economy, is price. The displaced Manhattanites who are probably accustomed to a lifetime of charging (and receiving) first-class fees may not be pleased at the impecunious leanings of the rough-and-tumble, countrified customers. While everyone expects top-notch services and even better results, the desire to pay for that level of quality leaves quite a bit to be desired.
Welcome to the 21st century. With competition stinging, an industry which once enjoyed an aristocratic pay scale has joined the ranks of the lowly laborer. Working for close to minimum wage is the new reality, if you can even get that!
So why bother? Well, for one thing, life goes on and there are hungry mouths to feed. Given that this wake-up call can discourage some of the high-priced carpetbaggers who may be tempted by the imminence of retirement anyway, try to find relief in a slightly diminished rivalry, albeit still lurking in the customers' collections of competitive bids.
While searchers using a generous mix of terms may bring up one set of search results, which may include a worldwide selection of organic choices, interjecting a regional reference can narrow the search results considerably. This technique can produce more locally-based individuals, companies or sources of information. However, Google's intuitive algorithms also note the searchers' location and provide paid AdWord results which specifically target their close-to-home market (if any such businesses have invested in appropriate keywords.) Sometimes, more global sources of the same services appear in AdWords which exponentially complicate the marketplace and encroach on your already difficult terrain.
What to do? The only surefire way to compete on a level playing field is to resign yourself to another new reality: the days of free organic advertising are limited since Google's master plan is to make money. Lots of it. Whether Google intended to get everyone used to the power of their free advertising only to snatch it away with the goal of selling millions of adwords seems a likely scenario. Google lured us all for years with its generous gifts and is entitled to a little payback. Okay, maybe a lot of payback. But unless you've tried Adwords, don't knock it. The truth is that AdWords work! And if you are willing to pay top bid on a keyword, you will be guaranteed top spot. No ifs, ands or buts.
Still, your AdWord agreement with your website's relevance to what someone searches for can affect many factors in how low a price you pay per click. If you can master that quandary, both your organic and AdWord outcome will be successful.
Connect with Marilyn Bontempo on Google+